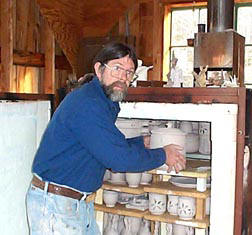 Shanware Pottery was founded in 1975 by Richard Wetterer in Stoneham, Massachusetts.
Richard is a graduate with High Honors from the University of California, Santa Barbara. He was an exchange student at the University of Edinburgh and the Edinburgh College of Art in Edinburgh, Scotland, and has a Master of Fine Arts from the Rinehart School of Sculpture, The Maryland Institute of Art, Baltimore, Maryland. After graduation in 1968 he spent a number of years teaching pottery, sculpture, and drawing on the college level. He is a past member of the New York Sculptors Association and past member and past president of the New England Sculptors Association.
Loading the kiln for a bisque firing, Rumney, New Hampshire, 2000.

After moving to Rumney, NH In 1987 Richard became a member of the League of New Hampshire Craftsmen and sells his work through the juried League of New Hampshire Craftsmen Retail Galleries as well as at the annual League of NH Craftsmen Sunapee Craft Fair. Shanware Pottery is also a member of the
Central NH Chamber of Commerce
.
In 2004 the old barn which served as the Shanware Pottery studio from 1987 on, was torn down, and the new studio built. Unlike the old barn, the new studio & gallery is heated, well lighted, and has handicap access. If you are in the area we hope you will stop in. See
Map
for directions.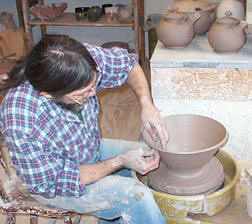 All Shanware Pottery is hand thrown on the wheel by Richard Wetterer and fired to over 2300 degrees F. All work is lead free, dishwasher and microwave safe.
"Besides choosing from our many standard designs and one of a kind pieces, you may make custom order requests and we will work with you to design items specifically for you. The only requirement is that you have patience as the pottery process is long and difficult, with results not always predictable. Since all Shanware pottery is handcrafted sizes may vary slightly from those listed. Each piece is a unique creation.
We look forward to hearing from you."
Richard Wetterer